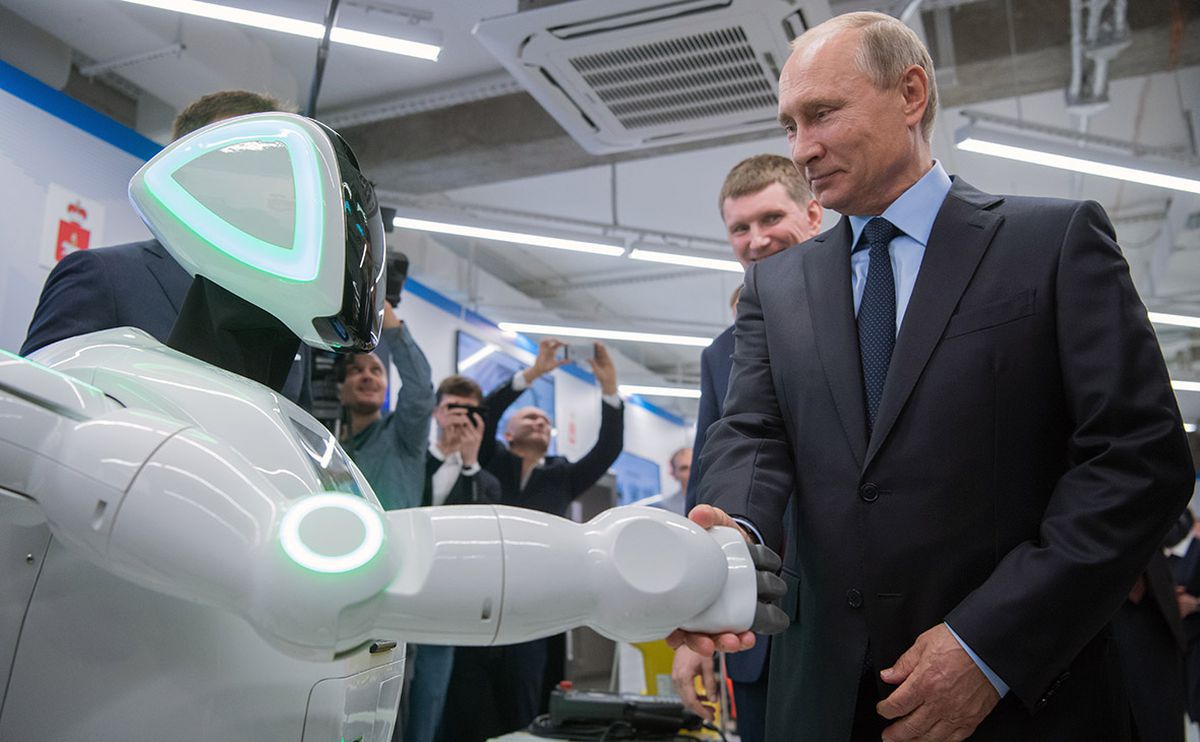 By Decree of the President of Russia No. 490 of 10.10.2019, the National strategy for the development of artificial intelligence (AI) in the Russian Federation up to 2030 was approved. It is aimed at making Russia one of the leading countries in the field of AI. According to the document, the Government of the Russian Federation has to:
To develop and approve the Artificial Intelligence federal project and include it in the Digital Economy of the Russian Federation national program by 15.12.2019 (as of July 2020, the order was not fulfilled).
To allocate the financing of measures aimed at the implementation of the Decree in the federal budgets of 2020-2030.
The goal of the strategy is for Russia to join the group of world leaders in the development and implementation of AI technologies in order to compete for the future market, the size of which is predicted to reach 140 billion US dollars in 2024. According to the document, an insufficient level of development and use of AI technologies will lead to the country's economic and technological backwardness.
It was planned that the Artificial Intelligence federal project aimed at implementing the strategy would have a budget of about 124 billion rubles (1.7 billion US $), allocated within the framework of the Digital Economy national project. However, due to the coronavirus pandemic, the final adoption of the project was postponed, and discussions on cost optimization began at the level of the Ministry of Economic Development in the spring of 2020. One of the options was to choose medicine and healthcare as a priority with a preference towards manufacturers and simplified access to anonymized medical data.
We have carefully studied the national strategy for the development of artificial intelligence and formulated the most important results, requirements, and challenges facing healthcare in AI implementation.
The development and implementation of AI products in healthcare should primarily focus on the following results:
№
Results and possible scenarios
Reference
1
Improving management efficiency, incl. planning, forecasting and decision-making processes, as well as the implementation of preventive measures based on AI help
Section III, Cl.21 а) and Cl.22 а)
2
Automation of routine work, for example, facilitating EHR maintenance (speech and image recognition, autocomplete and control) and medical data interpretation (CDSS) for clinicians
Section III, Cl.21 б) and Cl.22 а)
3
The use of robotics, autonomous intelligent equipment and logistics
Section III, Cl.21 в)
4
Improving the safety of medical activities, incl. usage of predictive analytics (for example, forecasting infectious disease epidemics)
Section III, Cl.21 г) and Cl.22 а)
5
Improving satisfaction with medical care, incl. personalized applications and the integration of AI products into various patient solutions, such as personal accounts, mobile applications, etc.
Section III, Cl.21 д) and Cl. 22 в)
6
Improving the quality of medical care, incl. improving prevention, introducing predictive analytics for manifestation and development of diseases, image analysis, selection of drug therapy, reducing the threat of pandemics, increasing the accuracy and safety of surgery
Section III, Cl.22 а)
7
Implementation of the goals and objectives defined by the "Health" national project. This means that the development and application of AI products should primarily be aimed at reducing cardiovascular diseases and cancer and mortality from them as well as increasing life expectancy
Section III, Cl.22 а)
Section III, Cl.19 е) and Section IV Cl.20
When creating and implementing AI systems, it is necessary to comply with a number of fundamental requirements presented in the table below:
| | | |
| --- | --- | --- |
| № | Requirement and possible implementation scenarios | Reference |
| 1 | AI products must be safe, incl. minimum risk of harm to the health of patients. This means that targeted changes should be made to the regulatory framework governing surveillance activities in the healthcare sector (Roszdravnadzor) in order to monitor the safety and effectiveness of AI solutions. | Section III, Cl.19 б) |
| 2 | AI products must be clear in terms of decision-making. It is necessary to provide an explanation of AI operation. What is more, the information about the algorithms used in them should be available. Perhaps, it is worth developing a separate legal act or guidelines for AI products and developers at the level of the Ministry of Health or the Ministry of Digital Development. | Section III, Cl.19 в) |
| 3 | Russia should have technological sovereignty, which means the predominant use of domestic AI products. It seems that it would be reasonable to introduce restrictive rules on the purchase and use of foreign-made AI products in healthcare if Russian companies have similar solutions. | Section III, Cl.19 г) |
| 4 | The integrity of the innovation cycle. The development of AI products should be carried out in close cooperation with Russian research organizations and commercial companies (the real sector of the economy) | Section III, Cl.19 ж) |
| 5 | Support for competition. It is unacceptable to restrict competition between Russian organizations in the field of AI. First of all, this means that it is necessary to create a level playing field for the development and implementation of AI products for startups (private companies) | Section III, Cl.19 ж) |
Analysis of the document sections allows us to draw a number of conclusions about what exactly should be done to implement the national strategy for the development of AI in healthcare at the level of federal executive authorities in healthcare:
| | | |
| --- | --- | --- |
| № | Activity (task) | Reference |
| 1 | Improvement of regulation in terms of the interaction between humans and artificial intelligence in health care, development of ethical standards; reduction of overregulation; creation of legal conditions and simplified procedures for testing and implementation of AI products | Section IV, Cl. 49, Section II, Cl. 8, Section IV Cl.49 в) |
| 2 | Designing datasets that are representative, relevant, and labeled correctly. They are necessary for the application of machine learning and the emergence of various developments and research publications in the healthcare industry | Section II, Cl. 8 and Section IV Cl.24 в), Section IV Cl.37, Section IV Cl.41 |
| 3 | Creation of a public platform and infrastructure for data collecting and data labelling in the healthcare sector with priority access of Russian organizations. Providing an enabling environment for access to anonymized medical data collected by government health authorities and medical organizations for the purposes of research and development of AI products | Section IV Cl.38 б), Section IV Cl.41, Section IV Cl.49 б) |
| 4 | Stimulating demand from government medical organizations and health authorities for the use of AI products; the priority area is the implementation of the "Health" national project with the use of AI products | Section IV Cl.26 б), Section IV Cl. 28, Section I, Cl.4 б) and д) |
| 5 | Development of unified standards, incl. ones on compatibility issues, determining the quality and effectiveness of AI products | Section IV Cl.34 г), Section IV Cl.49 д) |
| 6 | Stimulating investment in research and development of AI products and technologies through the implementation of joint projects between the state and investors, incl. the provision of targeted financial support to developers | Section IV Cl.49 е) |
At the level of the regions of the Russian Federation, the implementation of the national strategy for the development of artificial intelligence in the health sector implies the following measures:
| | | |
| --- | --- | --- |
| № | Measure, tasks | Reference |
| 1 | Introducing AI products into the work of regional health care institutions and stimulating demand for AI solutions from medical organizations. The priority AI application is to achieve the goals and objectives of the "Health" national project. It is necessary to ensure an increase in the number of medical organizations using AI to improve their efficiency | Section I, Cl.4 б), Section IV Cl.26 б), Section IV Cl. 28 |
| 2 | Providing an enabling environment for access to anonymized medical data collected by government health authorities and medical organizations for the purposes of research and development of AI products | Section IV Cl.49 б) |
| 3 | Organization of effective interaction between developers of AI products and organizations using these solutions | Section IV Cl.34 а) |
| 4 | Introduction of a simplified regime for the implementation of AI pilot projects. It is advisable for the regions to support the launch of various pilot projects with developers of AI solutions on their territories, to analyze and share their results, incl. through scientific publications and the media. | Section IV Cl.34 а) |
At the level of AI products developers, the state expects active work in the following priority areas:
| | | |
| --- | --- | --- |
| № | Measure, tasks | Reference |
| 1 | Design and development of AI products | Section IV Cl.24 б) |
| 2 | Improving the availability and quality of data required for the development of AI technologies. The idea of encouraging developers to share datasets they create is discussed (data can be used to support research) | Section IV Cl.24 в) |
| 3 | Support for the export of AI products, their promotion at the global market. Companies that show results in this direction may receive a special priority for implementation and government support | Section IV Cl.25 г) |
| 4 | State registration of the results of intellectual activity (IP assets), including international patents | Section IV Cl.27 б) |
| 5 | Research and application of adaptive (self-learning) algorithms. This is one of the promising areas and one of the little steps to strong AI (artificial general intelligence) | Section IV Cl.30 в) |
| 6 | Organization of effective interaction with organizations using AI solutions. Developers should learn from their product experiences and incorporate user and customer feedback in their development plans. | Section IV Cl.34 а) |
| 7 | Participation of AI technologies specialists in Russian and international conferences and competitions on this topic | Section IV Cl.34 а) |